It's the October 1994 issue of EUG and it really does contain 'something for everyone'. There's are brilliant new versions of Diagram and Will Watts' Rally game, not to mention the beginning of a full serialisation to the best Elk game ever plus all the regular articles and features you'd expect!
!First Stop!
How to operate the EUG disk, the editorial and this contents page.
Articles
"Elk Entertainment"
Christian Weber continues his invaluable trip of cheats, solutions and documentation to Electron gaming!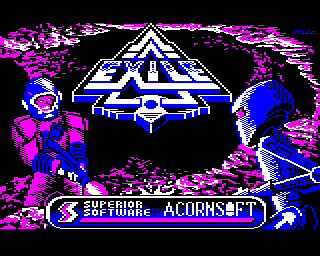 EXILE SOLUTION PART 1
John McHugh begins a mammoth journey through the weird world of Triax.
HARD DRIVE EXTENSION
Derek Walker has manipulated his Electron into a super-powerful hard disk-based mean machine. Here he tells us how!
ROWING AND STEERING
An amusing interlude from Mick Comley.
THE DONNACHAIDH/WEBER FEUD
Editor Gus' reforms haven't found favour everywhere!
WHICH HOME COMPUTERS? - A REPLY
Christian Weber responds to the two 'Which?' articles published in EUG #15.
Utilities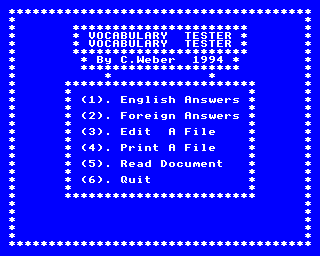 DIAGRAM v2.00
A brand new and improved version of Diagram with new utilities and commands at your disposal plus a loadable Diagram screen by Mick Comley.
DIAGRAM SCREEN PRINTER
A utility to generate code for Epson-compatible printers.
FOREIGN VOCABULARY TESTER
Create your own vocabulary lists for any foreign language you please - then test your knowledge. Do both using these utility programs from Christian Weber.
VIEWCHECK
Check your spelling in word processed files with this ever-expanding utility from Chris Chadwick, a whole year after it was first envisoned, the perfectionist!
Games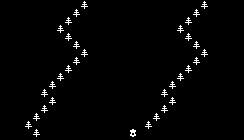 RALLY v2.00
How long can you stay on the track when you've now got fog and ice to contend with?!
Mailbag
Chris Chadwick comes back into the fold with a mass of positive ideas, John Crane looks for help on a number of points, Tony Boarer discusses printers and ROMs and John McHugh responds to some EUG #15 requests.