And you thought that the BBC machines were dead! This EUG contains possibly the biggest glut of impressive new software since time immemorial. Not only have two brand new unreleased Superior Software releases made it to EUG HQ but so too have a succession of supplementary Joseph Lavery images (all up to his usual jaw-dropping standards!), several stunning demos and games and the news that Christian Weber's "Elk Entertainment" will return as from EUG #58! What? You want more? Then read on...
Contents/News
The usual guide to EUG and the Menu System for newcomers plus the latest supplier, cyberspace and user group news - and the quick rundown of the latest bustling EUG disk.
BRAINTEASERS presents us with a weird world where the aliens are landing and we have numerous alcoholics for friends. Plus, we forward a message on some of the problems associated with HUSBAND 1.0.

Demos
Some rare screen display gems on display with two colour-switching animated demos, MUMMY and TRENCH, from Carl Graham plus a not-quite human face and Chris Dewhurst's STRUTHIOMIMUS dinosaur demo.
Games
Harebrain (All series. Requires PAGE at &E00)
Chris Dewhurst is back with a timely machine code Easter graphic adventure, all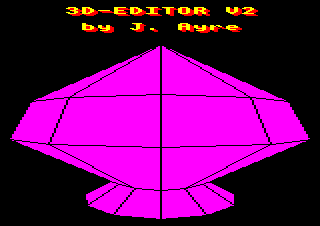 fully documented and brand spanking new!
Utilities
3D Editor (All series)
Salvaged from the mists of time by Ross Little, another PD utility is saved from extinction. Manipulate 3D cylinders into impresive shapes, and create your own multi-coloured slideshows with this disk-based, screen-saving editor. Read the documentation first though; it saves to disk continually and will need to be *COPYed over to a spare one. Includes a slideshow of presaved images.
JOSEPH LAVERY SLIDESHOW (IMAGES #1) (All series)
The first of two supplements to THE JOSEPH LAVERY COLLECTION reviewed last ish, five colourful Mode 1 screens to add to his lavish portfolio. Loaded with a compressed screen loader/depacker.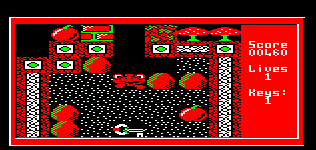 Reviews
We present the long-awaited lowdown on Uggie's Garden, discover the lost Elk version of the unreleased Tactic and report on bat and ball 'blip' update Video Classics. (For the EUG #3 review, please go to "What A Lovely WWW" on the Mailbag menu.)
Adventures (All series)
A bit of a solution extravanganza this EUG and, with the return of Christian Weber's regular column next issue, prepare for more solutions, cheats and pokes galore through the 'new' "Elk Entertainment" column...!
CASTLE OF SKULL LORD Solution
Read the comments and finally play through the unbugged COSL adventure which was incorporated into EUG #55. You will be astonished by the solutions to some of its problems...

Escape From Pulsar Seven Solution
You will. Jacob Gunness has solved this Adventure International game.
On The Way To The Interview Adventure
Find your way from the Tube Station to Slave Driver International in this intriguing and rare Duckworth adventure where tidy text messages complement a Star Drifter-style graphical map of the area.
The Stolen Lamp Solution
EUG corrects the Electron User solution that left you stranded in the Vizier's palace.
Woodbury End Solution
One of the most atmospheric BBC/Electron adventures ever created is stepped through to its gripping, trigger-happy, conclusion. Let those cowardly aliens have it!
Mailbag
EUG #3 on disk, general feedback and a massive About Me from new reader Kevin Etheridge.