Original format: BBC Micro/Electron
Publisher: Superior Software
Developer: Tim Tyler
Origin: UK
Release date: 1985
Repton
Many developers have attempted to create a reptilian videogame
icon, but none ever proved as recognisable as Repton's eponymous
hero. It had intricate level design and impeccable coding but an
inhumane industry saw its young creator move on to pastures new.

The summer of 1985 saw a game slip onto the market which was to become the start of a best-selling franchise and, after Elite, probably the best-known game ever to be released for the BBC family of home computers. Its 15-year-old creator earned telephone-number royalties from its publication, and that of its sequel. The game: Repton, the author: a now reflective Tim Tyler. Yet two years afterwards, before he'd even finished his A Levels, Tyler had sold the franchise to the name of his successful lizard and confessed that he was through programming, calling it "too inhumane to make a career of."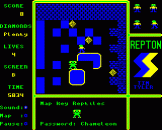 Repton made its creator one of the richest 15-year-olds in the country, and the franchise became Superior's best-selling range
Repton the lizard is an instantly recognisable icon to any BBC or Electron owner, mainly because in sprite form he was enormous. His job was to push boulders over ledges, escape from (or squash) bug-eyed monsters and pick up diamonds to escape from each level. Rocks, diamonds and monsters conspired to make the original game's 12 levels the most interesting and colourful challenge to hit the BBC's screen to date, and its ragtime music became the soundtrack to many childhoods: around 125,000 over its five-year peak. It was the player's intelligence and reflexes versus the level designer's cunning. 'Can you finish Repton?' challenged the adverts.
Was it just a Boulderdash rip-off? It seems unfair given that Tyler (still) has never played Boulderdash. But he acknowledges that while having a similar idea in his head, he'd read a review of Boulderdash and declared it his inspiration. His confidence to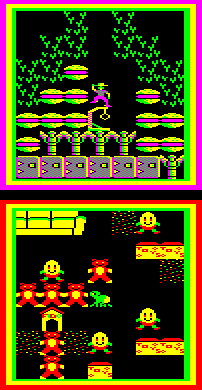 program Repton was gained years earlier after reading an article in 'Which?' magazine. "I felt I'd read all I needed to know from that one article; I even started writing programs before I'd bought a computer to try them on." Did he spend his time playing games? "Oh yes, that was its major purpose. I spent a lot of time playing Frak, Zalaga, Arcadians, Planetoid..." With a hectic playing schedule, it's not surprising that he wrote Repton in one busy month before submitting it to Superior. He had little in the way of tools: a homebrew pixel editor for the graphics, and maps were laid out on graph paper and entered as long strings of base 32. "I really had no idea what I was doing," Tyler states modestly.
After its successful release, Richard Hanson, managing director of Superior Software, was soon taking calls from customers asking when a sequel would be out. After three months of this, he asked Tyler the same question, and in another month, Tyler had produced Repton 2, which was like the first one, only very much harder. Rather than have a number of discrete similarly sized levels, Repton 2 consisted of one giant level, with different areas linked by transporters and new features such as lethal spirits which could be shepherded into cages to unlock more diamonds. It is notable that the idea to include a password and map facility in the original Repton was down to Chris Payne, Superior's marketing manager; Tyler got his way with Repton 2, and the game is still regarded as the thinking man's challenge within the emulation community, though many people found it too taxing at the time.
Diamonds are forever
Repton 2 kept players busy for six solid weeks after its release. Hanson knew it was six weeks because after this time, Superior began to receive phone calls to the effect that it was impossible to complete. The game refused to display the finishing sequence after players had collected every one of the 1,500-odd diamonds. Due to a last-minute change ("Never a good idea," Hanson stresses), Tyler had caused the game to count one more diamond than there actually was, and there was a smattering of disappointment among the people who'd discovered this. However, a fixed version was issued, and it can't have made that much of a difference because Repton 2 remains Superior Software's best-selling title to date.
Inevitably another sequel was planned, but Tyler's interest had waned. Although denying he had achieved any celebrity status, he admits that people stopped him in the street following Repton's release. ("I've no idea how they recognised me"). The money had made a big difference to the confidence of this 17-year-old, but no years of rock 'n roll excess followed. He went to study maths, sold his franchise and "tried to avoid the programming at college as much as possible."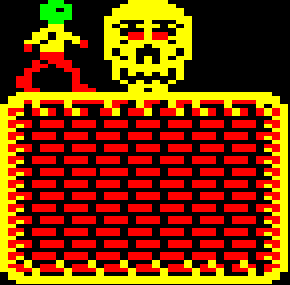 Matthew Atkinson was picked by Superior to program the third Repton title in February 1986. Some design tweaks were made by Hanson and Payne - so that Repton was required to find a time bomb before being allowed to finish a level, for instance. The level and password structure from the original game was brought back, and the spirits were brought over from Repton 2. Its major innovation, not just for Repton games but for gaming in general, was an integrated level and graphics editor. Did Hanson know it would be a success? "It's rare to be able to say in advance for sure, but with Repton 3 I was 99.9 per cent, well, no, 100 per cent confident that it would be a major success."
Tyler remembers being critical of the game in general - particularly the jerky scrolling: "but that shows what I know, I suppose." Repton 3 was the best-selling game for the BBC from its launch in November 1986 until mid-February 1987. Then in-house, using the same tools they shipped with the game, Superior produced Around The World In 40 Screens, The Life Of Repton and Repton Thru Time over the next 18 months, all selling spectacularly and running on the same code as the original. Certainly these were the first true game 'expansion packs', and more successful than the jaded mission discs that follow any moderately successful PC game. Hanson, a man with a canny commercial mind, was pensive when asked why they didn't just produce another couple, given their high returns. "I suppose I didn't want to be seen to be milking it."
Great job

Did Atkinson know what an important game Repton 3 was going to turn out to be? "No, it was just a great job. The call came out of the blue, they sat me down and offered it to me over lunch. They told me I wasn't the best programmer on their books, but I lived locally and worked well in a team." Indeed, Repton 3's design was a closely monitored team effort, a rarity for 8bit games, and it took eight months to create as a result. Much of this time was spent backtracking on the decision to make the game and editor the same program, an ambitious 'WYSIWYG' game editor that never came about. However, the BBC Master's arrival in 1987 allowed this integration to be reinstated, and it was kept this way for the later Commodore 64 port.
More than just a commercial decision, putting a halt to further themed Repton 3 releases was proof that Superior's catalogue had blossomed through the acceptance and variation of the Repton formula. When Ravenskull (another scrolling 2D puzzler) was submitted, Hanson was confident of its success. Also Pipeline, Bonecruncher and Clogger were notable traders on the Repton formula, not to mention the swathes of similar type-in games that graced the pages of magazines at the time. This trend culminated (on the BBC at least) with Superior releasing Repton Infinity. A "Repton construction kit", the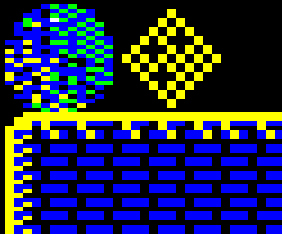 level and sprite editors were augmented with a compiled programming language which players could use to make their own Repton-type games. The game shipped with several surreal variants on the Repton formula, including one starring a bulldozer, and spawned a popular competition in The Micro User.
Even now, the lizard is not dead, only resting. Tyler discovered Java ("Not perfect, but I never want to go back to machine code...even C++ is too low-level") and made Rockz, an unfinished game in the style of Repton 2. Atkinson ("I miss machine code; people come out of college without a clue how to squeeze the last drop of speed from a machine") was just "amazed so many people are still interested after all this time." Hanson is quietly happy at Repton's continuing success, and plans to release versions of the old games for the PC, mobile phone and Game Boy Advance platforms under the banner of Superior Software. "The Game Boy Advance is the first platform in ages that's really made me sit up and take note...genuinely exciting."