As you may or may not know, although you are indeed reading 'The Taster' (the very, very first appearance of the EUG magazine!), the EUG magazine originally consisted of sheets of photocopied A4 paper; it was not until the ninth issue that EUG suddenly became the disk-based magazine we all know and love.
However, to save new members of the User Group needing to type in (and debug!) all the program listings of EUGs #0 to 8 (not to mention have a complete disk-based EUG 'collection'!), this issue was re-created on disk in the year 2000. With the Menu System and this Contents page being the only additions, its content may be a little thin. Be assured though that nothing has been omitted that did not appear in the original paper magazine.
WILL'S WELCOME
This is a welcoming message...from me, Will Watts. Tacked onto this disk version is a snippet from a review I did as well that appears in EUG #52.
THE BIT AT THE FRONT
A chatty, informal introduction to ease people into things and let them see what a 'colourful character' I am - "Me?!! I'm mad, me! I don't care what I do, me! I'm completely bonkers! I'm also rather irritating." A lot of nonsense about horoscopes and other computer users. Plus, anyone interested in recent social history and 'Yoof' culture can have fun spotting the references to Teenage Mutant Ninja/Hero Turtles and the original Star Wars films. There's even a picture of a pint-sized Yoda!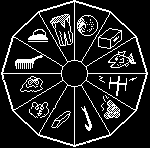 EUG Needs You Demo
A back page illustration of Lord Kitchener (sort of!) is brought to life with 'pop-up' text.
MUSIC PROGRAM 1
You enter a text string to represent a series of musical notes and the program plays your masterpiece when you press RETURN.
MUSIC PROGRAM 2
Highlights from the William Tell overture constructed with, and played on, an adaptation of the first Music Program. The original documentation for each is included as a View text file you can call from the Utilities Menu.
USER DEFINED CHR$ UTILITY
Hard as it may be to believe, this is a User-defined Character Generating Utility. Docs are as with the Music Programs.
A TO Z OF ELK SOFTWARE
This is an ill-conceived and fairly pointless list of software (A to B) that you can read over and over again in the comfort of your own home! Why not invite friends and family round and make a night of it? You could take turns at reading the list and whoever recites it in the silliest voice wins a Mars bar...or something (serving suggestion).
EIGHT THINGS TO DO WITH A BROKEN ELECTRON
All I can say is that if you miss ETTD then the item known as ETTD, by you, will, in no uncertain terms, have been missed. By you. And it will have been you that has done this thing, the thing that involves you, ETTD and missing things. Don't think I missed anything there.
ELECTRON EXCHANGE
An advert to tell people that they can place adverts. It's almost as exciting as ETTD above. I suspect that if you took a quick look at ETTD then immediately went on to sample ELECTRON EXCHANGE, you might not find it that gripping but you'd have the makings of almost half a grip or maybe just a pinch on a bad day. Anyway, slight pressure to the left earlobe at the very least. That's my final offer.
PUBLIC DOMAIN ARTICLE
A short piece about Public Domain Software libraries.
Programmer's Challenge
A simple Space Invaders program plus text challenging all-comers to better it.
LETTERS
One bogus letter to encourage future correspondence.
THE BIT AT THE BACK
I say goodbye for the first time. To be pedantic, the word "goodbye" doesn't actually appear in the piece but others like "maggot", "haemorrhoids" and "TippEx" do, so lots to enjoy here!
Will Watts, EUG #0