First Stop

The breaks between issues are becoming longer and longer but eventually we've put together a bumper crop of demos, games, articles and reviews to create EUG #66. Firstly, head over to our Retrospective section to catch up with all that's been going on in Acorn Electron World then download the companion disc for all kinds of professional and public domain software alike. And remember that you can use the feedback section of the site to tell us what you think about it.
Articles

The past catches up to the present in Hugo Rifkind's article for The Times: MIGHTY OAKS FROM NOT-SO-TINY ACORNS GREW, we provide a one-stop report on THE BEST GAMES for the Electron and we answer that oft posed question in respect of Acorn Electron hardware and software: "WHAT'S IT WORTH?". Dave E also reports on the bargains to be had at the CGE UK 2005 show, where Jeremy Grayson carried the torch for the Acorn World.
You're Alan Partridge (All series)
Dave E discusses some of the problems he encountered whilst writing new Electron game You're Alan Partridge, the only game yet in existence which works with the Millsgrade Voxbox interface (reviewed this issue). A demonstration interview is present on the EUG #66 companion disc with the game in full available to download from the PD World section of this site.
The

EUG #66

companion disc is stuffed full of brand new Acorn Electron games:



3D Pool

(Electron &E00 Disc Systems Only)
A masterpiece by anyone's standards, you will scarely believe you are playing this game on your little Electron. Place the cue ball then hover, zoom and move around the whole pool table in colourful 3D graphics. Written in 100% machine code by Orlando, this game was in fact released professionally, but the inlay forgot to mention there was an Electron version on the other side of the cassette!
Adventurous English

(All series)
An educational BBC/Electron game which was originally discovered in a lot of BBC only discs on eBay. The original disc was copy-protected and given to resident hacker Mr Quazar to decrypt. However, he went one step better, completely rewriting the machine code to give a faster, smoother game - and one that works at &1D00. A fascinating educational program for ages 7 to 11, the full instructions can be found here.
Charlie Chan In The Wock Factory

(BBC and Electron &E00 Disc Systems Only. Not &1D00)
Is it just us, or is this previously "lost" type-in a clone of Durell's

Mineshaft

? You are Charlie Chan, clumsily making your way to the top of each of fifteen screens to collect a wok. Patrolling nasties hinder your progress and Kraftwerk plays in the background throughout. Can anyone shed any light on where this game originates from?
Connect Four

(All series)
Ageless two player games:

Draughts

,

Ludo

,

Snakes & Ladders

and

Connect Four

. I found a sure-fire way of winning this last game when I was a boy was to always play with red counters, steal all of my friend's yellow counters and then let him use red counters to 'make up' for his missing yellows. "Haha, red wins again, Brownus! Ten nil, ten nil, ten niiilll...!" This version of the game, originally published in

The Micro User

actually includes this winning strategy!!! Well, alright, it doesn't really. But it does have big counters and a high AI!
Pipe Loonacy

(BBC and Electron &E00 Disc Systems Only. Not &1D00)
We are loving this colourful rip-off, ahem, "version" of

Pipemania

by Empire. Move around the grid, dropping enough pieces of pipe for the flooz to gush through. Written in machine code, it's hard to believe this was only a Micro User type-in as it surpasses the original classic in a great many respects.
Rockrun

(BBC and Electron &E00 Disc Systems Only. Not &1D00)
Have you ever wished

Repton

was a bit more frantic? Well,

Rockrun

is the familiar

Boulderdash

maze-type game with all the elements of planning and strategising removed. Don't hang around near those rocks for a second - they'll whack you! In fact, the faster you sprint around this maze of diamonds, the more chance there is you'll come out of it alive.
Squiggle

(All series)
A brand new game from the BBC and Electron by Chris Dewhurst, this is a tricky little puzzler played against a computer which is frightening clever. Just lay one of three pieces to continue a squiggle across a grid, but without allowing it to go off the side. Another very addictive winner from the modern God of Beeb programming!
The age of the scanned Electron computer mag is upon us and, with that in mind, we take a look at Electron User 5.08 as a gentle introduction to the magazine for all newcomers. In Munchman by Kansas City Software, we believe we have found the worst program ever released - even when in competition with the dire, and bugged, companion disc to Acorn Programs #1. To redress the balance, we look at quality software: Egghead In Space from Cronosoft plus Crack-Up and Gunfighter from Atlantis.
You'll also find, in this bumper issue for reviews, a look at the Lutius Project: The Complete BBC Micro Works Of Chris Dewhurst CD, and a hardware review of the Millsgrade Voxbox.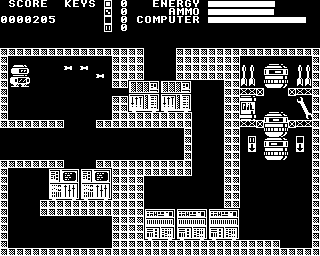 Armed with the Impact Games Club's solution to Plan B, we've worked our way through it to bring you this smashing "Idiot's Guide To Completion" - and a full .gif image of the playing area too!
We've been experimenting with quite a few PC tools to produce this issue's "look" and, whilst remaining faithful to our standard layout, believe the 3D style titles and insets give the whole issue a real lift! Your comments welcome...
You can post feedback on EUG and any other aspects of the Acorn Electron World website to dave_a_e AT hotmail.com.