Ladies and gentleman, it is March 2006 and a warm welcome to the latest issue of the EUG magazine!

It's hard to believe it, but this year the Acorn Electron is 24 years old. EUG is a staggering fifteen years old. Meaning that, in computer terms, the little Elk is ancient. Now, whilst the contents and editorial that accompanied EUG #65 suggested something akin to a comeback tour was in the offing just over a year ago, sadly this wasn't to be. Indeed, events for the Elk fell into something of a downward spiral. Let's just take stock for a moment.
1.
The glossy RETRO GAMER magazine by Live Publishing, which got us all so hyped up about the Electron being mentioned outside of the Stairway To Hell forums. It went bust.
2.
Chris Dewhurst's new collaboration with home-tape brewer Cronosoft, bringing us brand new arcade classics for the Electron. A second Electron conversion was duly completed (

Egghead In Space

). Cronosoft did not release it.
3.
The annual Classing Gaming Expo, which had also helped to rekindle something of a love for all of the retro systems, went ahead as planned. However, after two shows, the organisers have announced there will be no more.
4.
The Acorn Electron World web site. After some dodgy dealing by our web pages provider, our web site disappeared from the .com address for several months.
5.
The BBC Lives continues to vegetate with no update for over three years now.
6.
Chris Richardson has actually taken down premier BBC web site www.8bs.com.
7.
Finally, when it comes to eBay, we haven't spotted actually anything of interest up there since we published our previous issue.
These read like a serious catalogue of disaster - so it's important to get them out of the way so that we can concentrate on the positives. Thank goodness, it is not such a gloomy picture as it might appear because:
1.
Acorn Electron World is back. Albeit at a different address, we're bigger than ever and with even more hardware, software and downloads on show. We have several new sections, including items for sale, offering Electron goodies at very low prices, 'Gotcha!', which catalogues our new finds as they come in and a revamped 'What's New' section.
2.
Whereas cyberspace seemed to be dominated by scans only of games, it is now the turn of the old 8-bit magazines to get the recognition that they deserve. Dave M has launched a new site, The Acorn Preservation Project featuring a lot of scans of early BBC and Electron paper-based magazines. And, not to be outdone, we have a whole new 'magazine scan' section of Acorn Electron World too.
3.
Gathering together early Acorn Programs magazines from a variety of resources - and some of the Electron games hidden away in other multi-format magazines of the time! - meant a steady stream of "new" 'type-in' games have been appearing over the past year. And, whilst the cynics might say these really are us scooping out the dregs from the bottom of the coffee cup, they are important programs nonetheless.
4.
Of course, we continued to scour those auctions and market stalls for any cassettes or discs currently missing, and, thanks to Mr Spock and Mr Quazar, new disc games continue to appear frequently.
5.
Yet more unreleased games and demos were discovered for the Electron over at Stairway To Hell, with the discovery of an Electron version of professional Orlando release

3D Pool

- and the eight games of

The Soft Centre Collection

. There was even a Christmas release of another adult demo from The Horny Elk (

Ariel IAS

).
6.
In life after Cronosoft, Chris Dewhurst is now going solo with his own web site - and own CD! The site features some exclusive scans and information about all the games he has written over the years - and

Egghead In Space

did get a limited release.
7.
Dave E, of The Organ Grinder's Monkey, has written the brand new game

You're Alan Partridge

(YAP). (Originally this was done to show off on an Acorn Electron with

Millsgrade's Voxbox

at CGE 2006, but the cancellation of further CGE shows means the project is now available immediately from Acorn Electron World's PD section.) A demo is included on this very issue of EUG.
8.
A new Acorn Electron emulator, Elkulator, has been produced.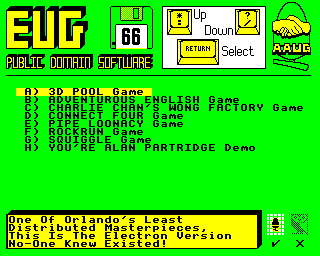 Nevertheless, the fact that only these few paragraphs encapulate all of the recent developments for the Electron shows that the last eighteen months have been uneventful. Whilst those wishing to relive their youth by reading scans of old Acorn Programs and Electron User will be happy enough, the Elk certainly seems to be currently enjoying its retirement with "no plans to re-enter public life".
As each EUG is a product of its time, in this latest issue, we have concentrated on something of a 'retrospective'. Along with reviews of the new downloaded Acorn Programs #1 disc and Electron User 5.08, we present articles which will also be linked to the very top page of Acorn Electron World in order to re-ignite some interest in the machine. As usual, the coverdisc now features programs alone - and, in this issue, we concentrate on games that were originally written for the BBC but, with some minor modifications, now work on the Electron.
You will have noticed that we have relocated to the current address, www.acornelectron.co.uk, fittingly where we began the EUG web site back in 1999.